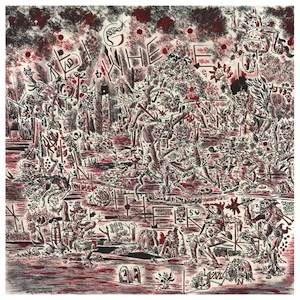 (Domino)
It's hard to not admire the work that goes into a double album, its an undertaking and commitment that requires dedication that isn't seem very often in the musical world, especially in an era of easy downloads and Youtube ready singles. That's why its easy to appreciate Cass McCombs, a Californian musician who could easily have been born decades earlier and made the same music that he does today. It's not for appearance either, he comes across as someone who has found himself unintentionally left outside of contemporary culture. His latest collection of songs,
Big Wheel and Others
, clocks in at a little over 85 minutes, more than enough for two reasonable length albums, but McCombs seems to be one of the hardest working musicians around these days, releasing two albums in 2011 and despite only putting out records for the last decade he has amassed a fairly considerable discography.
Big Wheel and Others
, his seventh album, being the latest and his longest yet.
There is no conceptual hook holding this album together, instead it comes across like its just a big scrapbook of songs. It has a mismatched quality to it, recorded over a large period of time in various studios and homes. Some of the tracks seem like rough sketches, others are more complete. The only obvious strain that runs through the record are short clips of the innocent and charming insights of a child named Sean answering questions that crop up between songs and of course, McCombs laid-back delivery.
You can image Cass McCombs as an artists from a bygone era, or he at least listened to his father's folk records when everyone else was into grunge. The blues indebted swing of The Burning of The Temple, 2012 serves as one of the best tracks from the albums first half. Its the kind of song you can imagine played in the kind of old and smoke-filled jazz bar you only see in films. McCombes does his best wounded crooner as he sings the chorus of 'When you're crying in the shadow of love', leaving you to contemplate the sentiment as a clarinet plays out some mournful jazz licks. Morning Star echoes The Shins' easy going pop, the music seems suited to a warm summer evening as he McCombs has some of his strange humour on show 'What's it like to shit in space?' rhyming it with '...free us from this world of hate' with all of the hazed cool of Lou Reed. Brighter! features vocals from the late Karen Black, who also featured on his album Catacombs, adds her commanding and assured voices to the songs' country pop that could have been a big hit four decades earlier.
The end of the album provides some more highlights like Aeon of Aquarius Blues' stripped-back folk and the lo-fi country of album closer Unearthed, both provide some of the most direct and intimate material on the album. The nine-minute long Everything Has To Be Just-So strolls along over light hand percussion and tropical leaning guitars as McCombs channels the wisened reasoning of Bob Dylan with lyrics go into a meandering examination of equality. The track may very well go on too long but it's one of many moments that make you realise he only makes music for himself, there is no pandering to an audience. Elsewhere there are the odd missteps and ideas that don't hold together as well like the the lounge feel of the instrumental It Means a Lot To Know You Care and there are plenty of moments that could have done with some harsher editing but you get the idea that isn't part of McCombs style.
It takes some effort on the listeners part to get into McCombs' seemingly impenetrable headspace, but with repeated listens the album is consistently rewarding, revealing new favourites and hidden moments. Sticking with the scrapbook analogy, his work is uneven and sometimes patchy but it is honest, insightful and often very personal. This seems like it would lead to the album being inconsistent but there is something about Cass McCombs and his sound which is out of step with anything happening right now, that holds it all together.
Big Wheels and Others
shows that sometimes the most simple and raw ideas, with out the fine-tuning and editing, are the ones that stay with you.
Originally posted on figure8magazine.co.uk